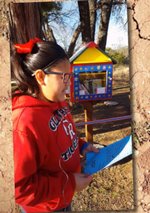 Birdy's Little Library
Come and Go Grand Opening!
Your class is invited to the Bird Sanctuary to check out the latest addition to our outdoor learning center. Please feel free to come and go this week.
Birdy's Little Library is a place you can go and read. You can check out a book and keep it, but you have to bring another book in its place.
The library will be at the Bird Sanctuary behind the school.
There are so many books you can read.
You can sit outside and read with the birds.
You can get in touch with nature.
If you have a book or books that you do not read any more you can donate them to Birdy's Little Library. Just Bring them to Mrs. Fowler's room.
Thank you,
Kimberly Magana